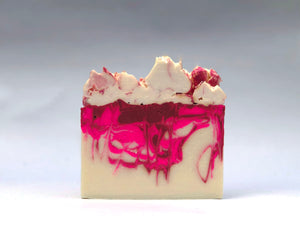 About: This soap was inspired by Persephone, the Greek goddess of spring and queen of the underworld. It features a pink and white swirl with piped pomegranates and flowers. The fragrance for this soap is pomegranate. This was chosen because of the role of pomegranates in her abduction by Hades and Zeus as well as their status as a symbol of fertility which is also associated with Persephone.
Fragrance: 
Top Notes:  grapefruit, lemon, orange, bubbly notes
Mid Notes: pomegranate, strawberries, raspberries
Base Notes: champagne
How to Use: Keep in a dry area when not in use. If you think the bar is too big for your hands, just cut it in half and use in two bathrooms or save the second half for later use.
Ingredients: Olive Oil, Coconut Oil, Sustainable Palm Oil,  Water, Sodium Hydroxide Lye, Castor Seed Oil, Canola Oil, Fragrance, Apricot Seed Oil, Sodium Lactate, Skin-Safe Mica, Titanium Dioxide