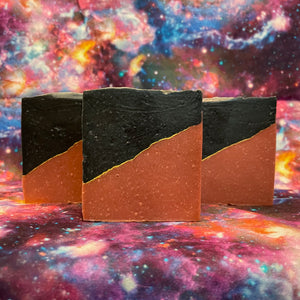 About: Tea. Earl Grey. Hot. This soap is inspired by Captain Picard. It is handcrafted and unique. Don't even try to get one from the replicator.
Fragrance: This soap features a blend of bergamot, black tea leaves, rose hips, violet, and lily.
How to Use: Keep in a dry area when not in use. If you think the bar is too big for your hands, just cut it in half and use in two bathrooms or save the second half for later use.
Ingredients: Olive Oil, Coconut Oil, Sustainable Palm Oil,  Water, Sodium Hydroxide Lye, Castor Seed Oil, Fragrance, Apricot Oil, Sodium Lactate, Skin-Safe Mica, Black Oxide, Activated Charcoal, Titanium Dioxide