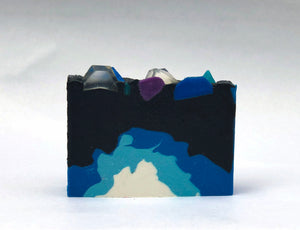 About: This soap was inspired by Hades, the Greek god of the underworld. It features a blue flame design and melt and pour soap gems. Hades was not only the god of the dead but also of wealth. A mint fragrance was used for this soap because mint is one of the sacred plants of Hades.

Fragrance: This soap features a cucumber basil mint martini fragrance. It has refreshing top notes of orange, bergamot, and lemon peel, with a heart of fresh cucumber water, fresh basil and garden mint; sitting on a gorgeous base of dry vermouth, geranium, and musk. 
How to Use: Keep in a dry area when not in use. If you think the bar is too big for your hands, just cut it in half and use in two bathrooms or save the second half for later use.
Ingredients: Olive Oil, Coconut Oil, Sustainable Palm Oil, Water, Sodium Hydroxide Lye, Castor Seed Oil, Fragrance, Apricot Seed Oil, Sodium Lactate, Skin-Safe Mica, Activated Charcoal, Titanium Dioxide, Biodegradable Glitter
Gem Embed Ingredients:  Sorbitol, Coconut Oil, Propylene Glycol, Stearic Acid, Water, Sodium Hydroxide, Glycerin, Skin-safe Mica