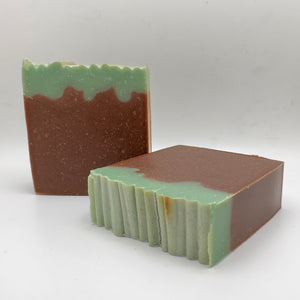 About: Wether it's spending too much time crafting mines, unlocking shrines, or you are just a little too delulu about your bias, it's good to stop, go outside, and touch some grass.
Fragrance: This soap features a warm and earthy fragrance with notes of sandalwood and vanilla.
How to Use: Keep in a dry area when not in use. If you think the bar is too big for your hands, just cut it in half and use in two bathrooms or save the second half for later use.
Ingredients:
Olive Oil, Coconut Oil, Sustainable Palm Oil,  Water, Sodium Hydroxide Lye, Castor Seed Oil, Fragrance, Apricot Oil, Sodium Lactate, Skin-Safe Mica, Brown Oxide Pigment