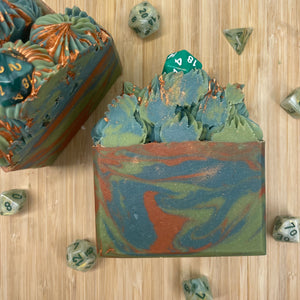 About: Each bar of the Druid frosted soap features a nature inspired d20. We can't promise all your skill checks will be nat 20s but we hope this soap gives you a point of inspiration every time you use it.

Fragrance: This soap features a fresh woody scent with notes of bergamot, orange, cassis, sea water, hyacinth, blue lilies, lemon zest, patchouli, seaweed, leather, lavender, geranium, cypress, sandalwood, suede, spiced musk, and tobacco.
How to Use: Keep in a dry area when not in use. If you think the bar is too big for your hands, just cut it in half and use in two bathrooms or save the second half for later use.
Ingredients: Olive Oil, Coconut Oil, Sustainable Palm Oil, Water, Sodium Hydroxide Lye, Castor Seed Oil, Canola Oil, Fragrance, Apricot Oil, Sodium Lactate, Skin-Safe Mica