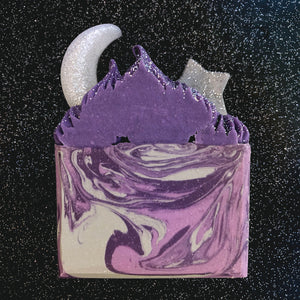 About: Inspired by Artemis, the Greek goddess of the hunt, the wilderness, wild animals, the Moon, this soap features swirling silver and purple with a moon and star embed. It evokes cool evenings and moonlight.
Fragrance: This soap features notes of rose, jasmine, violets, sweet musk, wood, bergamot, lemon, cucumber water, and cashmere. It is similar to Moonlit Path from Bath and Bodyworks.
How to Use: Keep in a dry area when not in use. If you think the bar is too big for your hands, just cut it in half and use in two bathrooms or save the second half for later use.
Ingredients: Olive Oil, Coconut Oil, Sustainable Palm Oil, Water, Sodium Hydroxide Lye, Castor Seed Oil, Canola Oil, Fragrance, Apricot Oil, Sodium Lactate, Skin-Safe Mica
Moon and Star Embed Ingredients: Sorbitol, Coconut Oil, Propylene Glycol, Stearic Acid, Water, Sodium Hydroxide, Glycerin, Skin-safe Mica