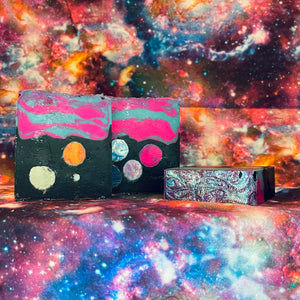 About: Solar System is truely out of this world! Every bar is unique featuring different planets made from cold process soap inside the bars. Because of the nature of this soap every bar is different. As you use it additional planets may appear. 
Fragrance: This soap features a warm and enchanting fragrance blend of 
pineapple, orange, eucalyptus, jasmine, lily, violet, sage, thyme, patchouli, sandalwood, cedar, oakmoss, musk, and vetiver.
How to Use: Keep in a dry area when not in use. If you think the bar is too big for your hands, just cut it in half and use in two bathrooms or save the second half for later use.
Ingredients: Olive Oil, Coconut Oil, Sustainable Palm Oil,  Water, Sodium Hydroxide Lye, Castor Seed Oil, Fragrance, Canola Oil, Apricot Oil, Sodium Lactate, Skin-Safe Mica, Black Oxide, Activated Charcoal, Titanium Dioxide
Star Embed Ingredients: Sorbitol, Coconut Oil, Propylene Glycol, Stearic Acid, Water, Sodium Hydroxide, Glycerin, Skin-safe Mica